El amigo y amazing Web wiz Alan Levine se ha inventado una fantástica iniciativa para demostrar que hay gente que se interesa por lo que estamos pasando en Puerto Rico. Sobre todo, él y varios amigos están justamente preocupados por nuestros estudiantes en Sagrado. Esperaremos el lunes y el martes, con la reapertura de las clases para entender bien qué necesidades tengan. Pero, se ha dicho él, ¿qué se puede hacer para que sintamos que no estamos solos? Hay seres que tienen la empatía y la simpatía para compartir con nosotros. Y esta es la idea de Alan: crear un Puente de Puerto Rico…
I suggested we start a campaign of mailing postcards to he and his students just to say, that unlike our President…. we care.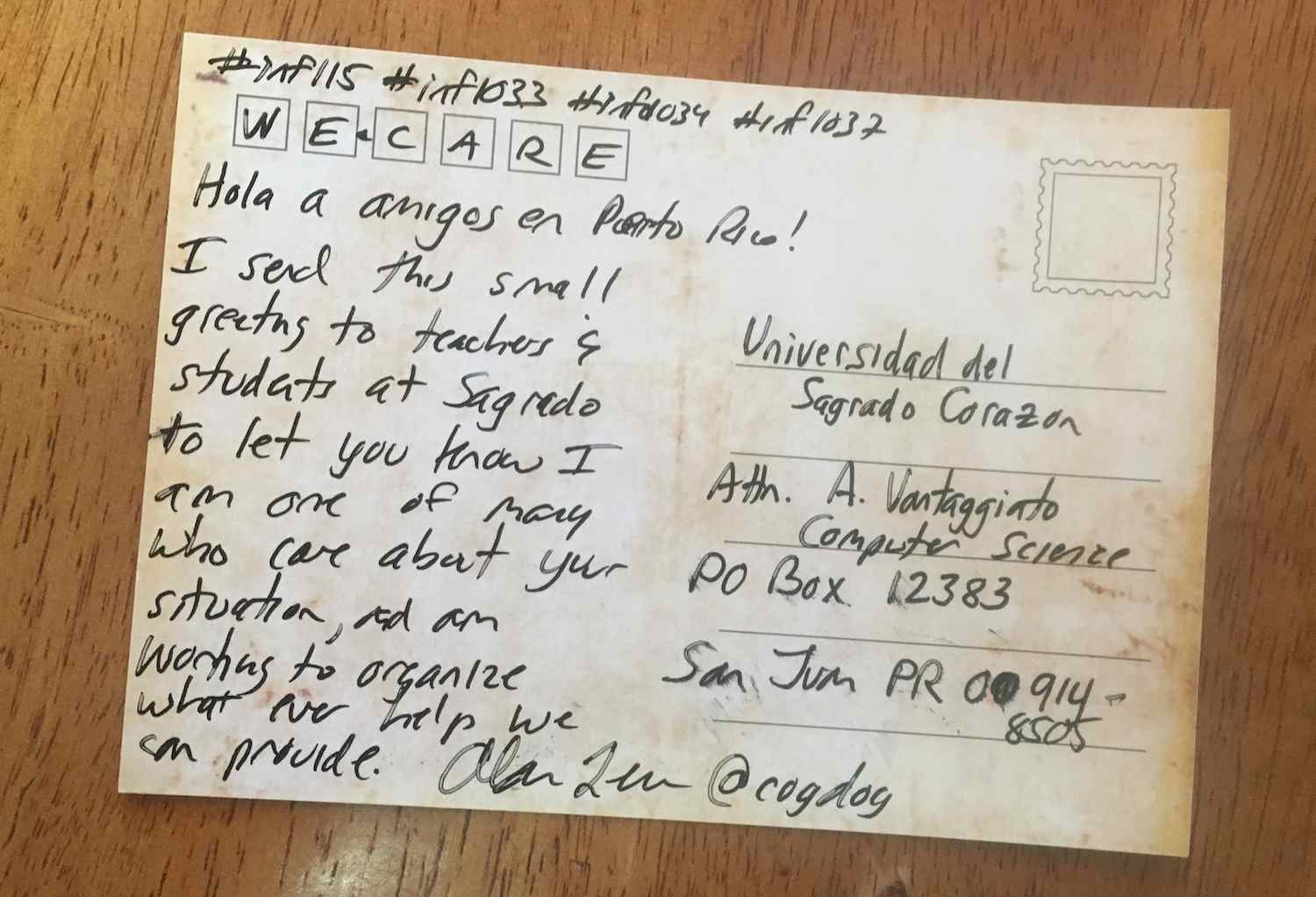 Vean su post aquí: El Puente de Puerto Rico, y a partir de ahora estoy sindicando el contenido del blog de Alan, CogDogBlog.com en este mismo portal. Se agrega aquí todo lo que él publique con el tag care4sagrado.
La iniciativa consiste pues en enviar tarjetas postales (sí, las famosas y no olvidadas postcards…) a mi atención en Sagrado con la etiqueta de inf103 o inf115 (o ambas), a la dirección:
Universidad 

del 

Sagrado 

Corazon


Attn 

A

.

 

Vantaggiato


Computer 

Science


PO 

BOX

 

12383


San 

Juan 

PR

 

00914

-

8505
Yo digitalizaré las tarjetas y las publicaré aquí. Además exhibiremos las tarjetas físicas de alguna manera (que ustedes sugerirán en breve).
¡¡Nos vemos mañana!!